Coconut Ladoo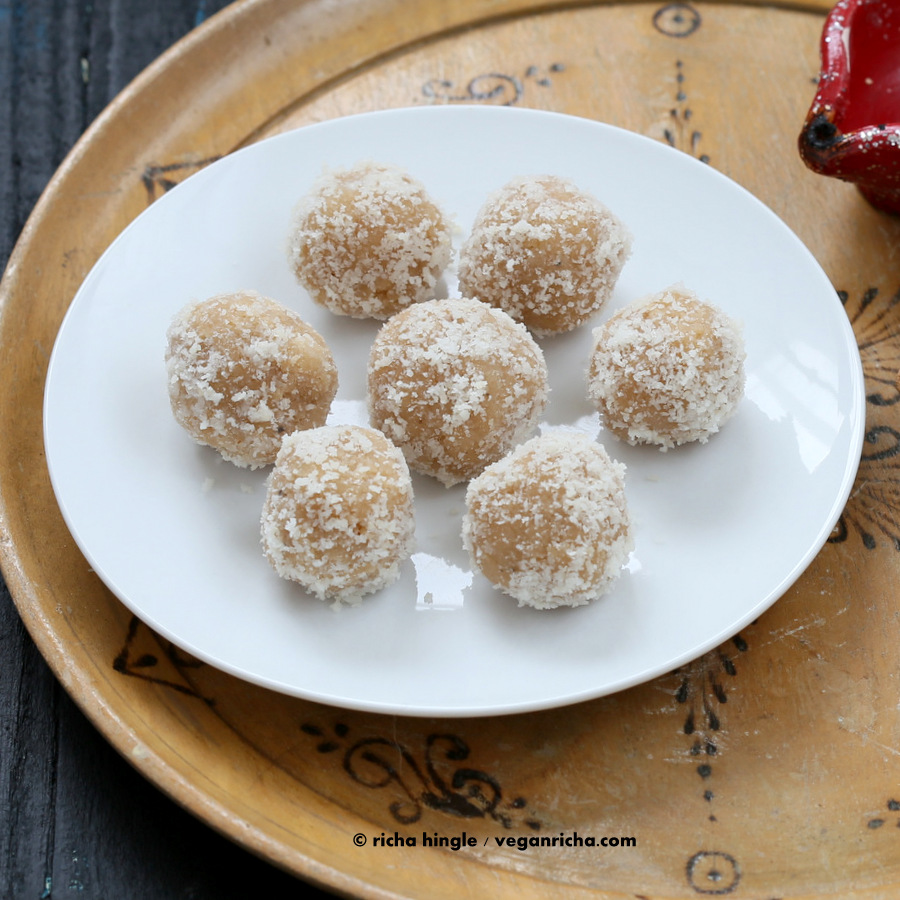 Love coconut? This is the recipe for you. Try these Coconut Ladoos for a quick dessert.
Prep Time

10 min

Cook Time

25 min

Total Time

35 min
Cuisine

Course

Suitable for diet
Ingredients
For Your Ladoo
2 cups unsweetened shredded coconut (dried)
Seeds from 4 to 5 cardamom pods
⅓ cup full fat coconut milk
2 tsp coconut oil
⅔ cup ground raw sugar or jaggery (use a Tbsp less for less sweeter)
A pinch of salt
2 Tbsp coconut flour
Method
1
Grind or blend 2 cups coconut flakes in a blender or processor to make small powdery flakes. Blend a few short cycles, move the coconut around and pulse more to avoid making coconut butter.
2
Pound the cardamom seeds in a mortar and pestle to break into a coarse mixture and mix with the coconut.
3
Heat the coconut milk in a small skillet on medium heat. Add oil, sugar and salt and mix in. Bring the mixture to a boil (about 4 mins).
4
Continue to boil for another 4 minutes or until the mixture can form a half thread. (220 to 225 deg F temperature). Take off heat.
5
Immediately add 1 ½ cups of the shredded coconut and cardamom and mix.
6
Add the coconut flour and mix. If the mixture appears too wet, let it cool for a minute, Then add more shredded coconut 2 Tbsp at a time. Do not add more than 4 Tbsp else the ladoos will be too dry. The mixture becomes less wet as it cools.
7
Let the mixture cool for 2 minutes then shape into balls by picking up 1 to 2 Tbsp of the mixture, pressing and shaping with one hand.
8
Roll the ball in the remaining shredded coconut and serve.
9
Cool completely before storing. Store in an airtight container on the counter for up to 3 days or refrigerated for a week.