India is not only diverse in its culture, but also in the kinds of food served. Every part of this beautiful country has its own sub-culture that has influenced the local food in India alone, but all over the world. The northern part of India is popular for its rich and dynamic foods with a kick you can't find anywhere else. Let's take a deeper look into the foods of Northern India and all of the taste that comes with it!
Rich Dishes
North Indian cuisine is known for its rich dishes which make use of lots of dairy products such as ghee (clarified butter), yogurt, paneer, and milk. Dairy products are frequently used in making gravies, or curries, in the northern parts of the country.
Other ingredients used in North Indian dishes include nuts, saffron, and chilies to create savory and spicy flavors. Various types of flour are also used to make popular Indian bread like roti, chapattis, naan, puris, and phulkas in this area of India.
Staple Foods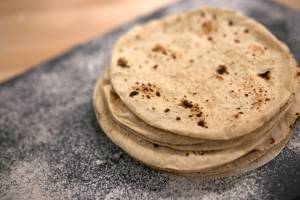 North Indian people usually prefer bread over rice. Apart from the mentioned varieties (naan, kulcha, puri, and bhatoora), stuffed parathas are also commonly made. These are often eaten alongside pickle and yogurt. Rice is also popular in North India and is usually made with elaborate dishes like pulaos, or pilaf rice dish, and biryanis, a rice dish with vegetables, yogurt, and occasionally dried fruits.
Cooking Styles
To make North Indian bread, like paratha and roti, a flat griddle known as tawa is used. To make breads like kulcha and naan, a cylindrical and charcoal fired oven known as the tandoor is used. Other breads, like bhatoora and puri, are deep fried in a vessel, known as kadhai, using lots of oil.
North Indian Spices & Oils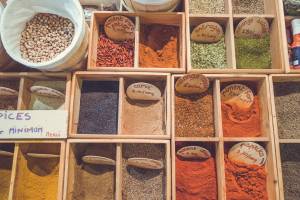 The important spices used in North Indian cuisines include chili powder, turmeric, cinnamon, cardamom, dry red chilies, cumin, cloves, coriander, garam masala, and fennel and many more! These are often used to create spicy and savory dishes that are common to the area.
Amongst the cooking oils commonly used are canola and sunflower oil. Mustard oil is also used but is limited to certain regions and only in certain dishes. Ghee is used as well, but only while cooking for special occasions.
Popular North Indian Snacks
The most popular snacks in this region are: samosa which are triangular patties with vegetable fillings that are usually potato flavored with spices and served with chutney or coriander dip, and pakora or bhajiya which are slices of potato or onion coated in chickpea flour batter and deep fried that are often served with chutney and ketchup.
Paneer tikka is also commonly eaten as a starter, which is made by cutting paneer into small pieces, marinating them in yogurt and spices, and then cooking them in a tandoor or tava. It is served with coriander-mint-yogurt chutney. Some popular roadside snacks include mirchi vada (chili fritters), kachori (deep fried fritter with spicy peas), and golgappa or panipuri (fritter filled with veggies and chutney).
North Indian Main Courses
North Indian breads are served with delicious vegetable preparations including dum aloo (potatoes cooked in yogurt sauce, flavored with spices, herbs, and chopped coriander), and vegetable jalfrezi (seasonal vegetables, stir fried and tossed in cream and butter gravy, seasoned with various spices).
Palak paneer which is cottage cheese fried and cooked in spinach gravy, and paneer kofta, or dumplings made of cottage cheese and vegetables deep fried and then added to a creamy gravy, are equally famous. As far as lentil preparation is concerned, dal makhani or black lentils and kidney beans that are cooked along with cream, butter, tomatoes and onion gravy, and a few spices is often served as a main dish.
North Indian Desserts
Some popular sweets or desserts that also form a part of North Indian cuisine are jalebi, gulab jamun, petha, peda, singori, ras malai, falooda, kulfi, halwa, barfi, and ladoo. Kulfi is known as the traditional Indian ice cream and is made from dairy products often mixed with fruits or other flavors. Barfi is a condensed milk-based confectionery that is often made for formal events.
Popular Foods by North Indian Region
Different regions of Northern India have popularized different types of food. Let's explore some of the most popular dishes in the different areas of North India.
Rajasthani Cuisine
Some popular dishes of Rajasthan are dal bati churma, bajre ki roti, mawa kachori, lahsun chutney, kicha ro saag, haldi ro saag, and sweet dishes like feeni, churma, ghevar, milk-cake, mawa kachori, imarti, and balushahi. The cuisine in this area was influenced by the war-like lifestyles of its first inhabitants. Foods that could stay fresh for days without being heated up were preferred. Rajasthan is made up of 70% vegetarians and sweets are often served before, during, and after meals.
Bihari Cuisine
Traditional cuisines of this region include kadhi-bari, pittham, ghugni, khichdi, choora, sattu, litti. Sweet dishes popular here are churma, kheer, malpua, gulab jamun and so on. This kind of cuisine is mostly vegetarian based and uses dairy products frequently throughout the year.
Punjabi Cuisine
Makki di roti and sarson da saag are the most well known Punjabi dishes. Apart from these the other popular food items include Makki di roti and sarson da saag. Most dishes are based on locally grown, staple foods. The cuisine is known for rich, buttery flavors in traditional vegetable dishes.
North Indian Food is Everywhere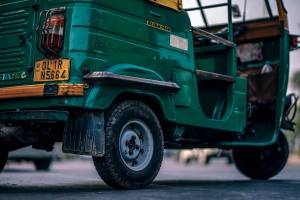 Though we barely touched the surface, you can see North Indian food is more than just a couple of dishes you can whip up in your kitchen. There is a variety of foods in every corner of North India and many dishes have made their way across the world.
You don't need to be a North Indian to make North Indian dishes, all you have to do is grab some spices, dairy products, and pick a recipe you want to try. The options are limitless.
Jot down the recipe, and don't forget to come visit Pioneer Cash & Carry to find authentic Indian ingredients to use in your cooking, and then get back to your kitchen to make a delicious meal.
Your taste buds will thank you later!
Feel free to comment below and share other Indian meals you like. We appreciate feedback and suggestions to feature in the future.
Want to Travel India with Us?
Check out these articles to see the best Indian foods to try around the country!