Hailed by some as a superfood, yogurt is indeed a favorite amongst American and global households alike. With a wide variety of options such as Greek yogurt, a thick yogurt that is made using milk that has been partially dewatered, or the more traditional unsweetened yogurt, there's bound to be an option for everyone out there. Even for the lactose-intolerant yogurt's got you covered.
Yogurt is used in a variety of applications the world over, but is used to cook up a lovely curry, or perhaps a raita in India. Heck, yogurt can be used in many Indian dishes!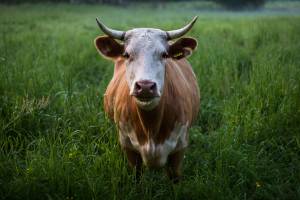 From Cow to Yogurt
Yogurt is made by fermenting milk using lactic bacteria or cultures. These cultures are then added to milk that is heated, pasteurized, and then homogenized. The mixture is then allowed to incubate at a set temperature to maximize bacterial activity.
A few boring biology classes after (or interesting, if you're into that kind of thing) plus a little sugar, fruit, other sweeteners or flavors, and voila! Your yogurt is brought forth into the world. With so many benefits to choose from, we thought we narrow down our list down to just six benefits that will have you running to the dairy aisle:
Lactose Intolerant? No Problem.
Yogurt is easier to digest than milk, mostly due to the good bacteria in it, which converts the lactose into a more digestible form. This then means that slightly to moderately lactose intolerant individuals can have yogurt without worrying too much about indigestion later.
There's even 100% lactose free yogurt out there for those with severe lactose intolerance. Look for brands that have live-bacteria or probiotics on the package. These cultures consume almost all the lactose, making it safe for you to digest if you're lactose-free!
Trying to Lower Your Cholesterol?
A study done in 2011, used people with type-2 diabetes to find that eating 10.6 ounces of a yogurt containing good bacteria each day was helpful in managing, and most times, lowering cholesterol. Further, yogurt has been found to be beneficial in lowering high blood pressure.
In addition, daily consumption of yogurt lowers bad cholesterol (LDL) and raises good cholesterol (HDL). Again, look out for those that have probiotics or live cultures if you are trying to maintain your cholesterol on doctor's orders.
Yogurt is Nutrient Dense
Yogurt is an exceptional source of calcium & protein, and it is loaded with tons of vitamins! Just one serving is contains a fair bit of phosphorous, potassium, vitamin B5, riboflavin, zinc, and iodine.
Yogurt also contains B12, which maintains healthy nerve cells and assists in the production of DNA and RNA. As far as nutrients are concerned, we would be hard pressed to find a food that provides a wider range of vitamins and nutrients as yogurt does.
Have You Been Sick Lately?
Researchers at the University of Vienna found that consuming yogurt may be one of the most effective methods of fighting off the flu. After studying women who consumed a daily intake of about 4 ounces, they found an increase in the strength and activity levels of T cells, or cells that battle illness and infection, than when they had not eaten yogurt.
A few other studies have found that consuming 8 ounces of yogurt daily to be just as effective at boosting immunity as conventional medicines, while all the while retaining that natural goodness!
Curb Your Appetite
Yogurt is abundant in protein. This has been shown to increase satiety – and therefore helps individuals manage their overall calorie intake. Another study found that women who had Greek yogurt as an afternoon snack, had increased levels of satiety, improved control over their appetite, and were able to hold off the need for more food consumption than those that had not had the yogurt as an afternoon snack.
The Perfect Snack Every Day

There are many health benefits of eating yogurt, so it's important to keep your yogurt stock up at home! Pick up a wide variety of yogurt at Pioneer Cash & Carry for your everyday snacks. You'll tummy will thank you later.
Need More Ideas for Healthy Snacks?
Check out these articles for some ideas to get you started: